In just a short 25 days, the hubs and I are going a-traveling!
We'll be visiting his family in Tennessee for Thanksgiving
and we are beyond excited!
The reason for our excitement is two fold:
(1) this will be only our second trip Stateside in over 3 years
and
(2) this will the first time we see John's family in 4 years!
To sum it up: WE SO EXCITED!
Aaaand, I've already started mentally packing my bag(s).
But, I was presented with a daunting situation while
mentally trying to pack my earrings.
Hilarious, right?
You see, a while back I created the cutest little earring holder.
You can see it here.
Great, right? But not exactly fit for travel.
And I like the idea of being able to take
all of my accessories with me when I go places.
And so, the Simple Earring Book was born!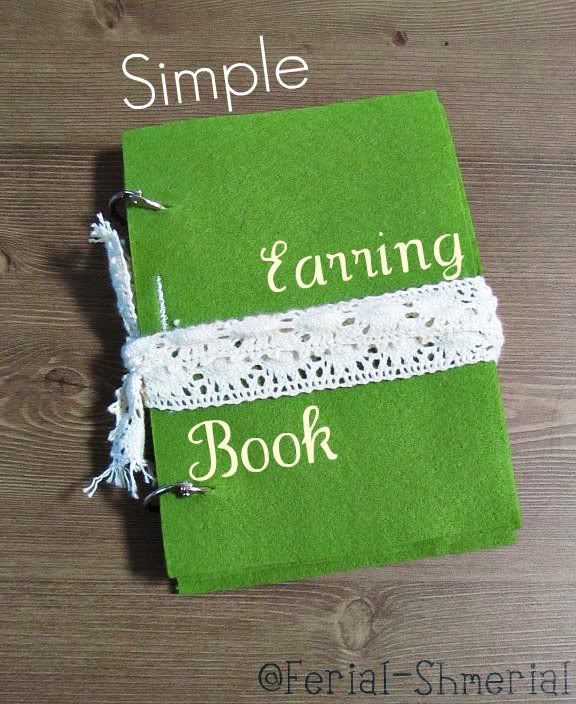 View the tutorial after the jump!
Here's what I used to make the Simple Earring Book:
Start by cutting your thick felt into 5 rectangles,
each measuring roughly 4" x 5

1/2

".
Decide where you'd like your first binder ring placement.
Then, using your heavy needle, begin
puncturing holes in the aligned places
through each piece of felt.
Repeat process on the opposite side of the long edge of your stack of felt
for the other binder ring.
When I was finished puncturing my binder ring holes
I found that the holes were just a bit too small.
So, I took my X-Acto knife to each hole
and created a small slit over each one.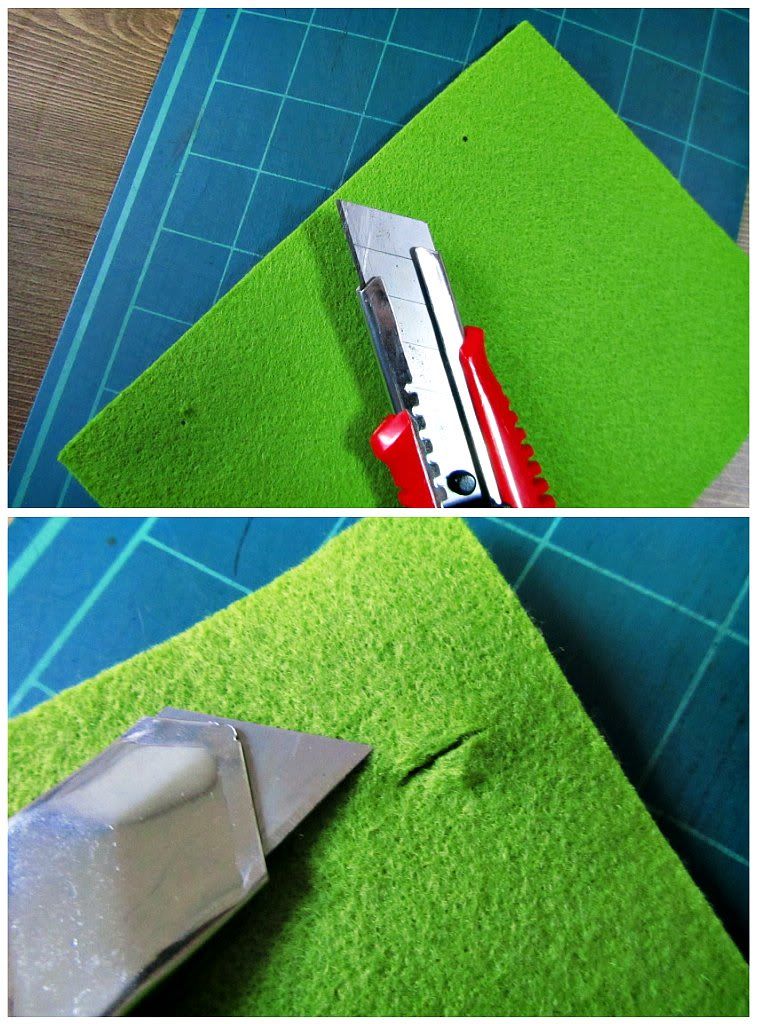 Insert your binder rings on both sides of the stack of felt.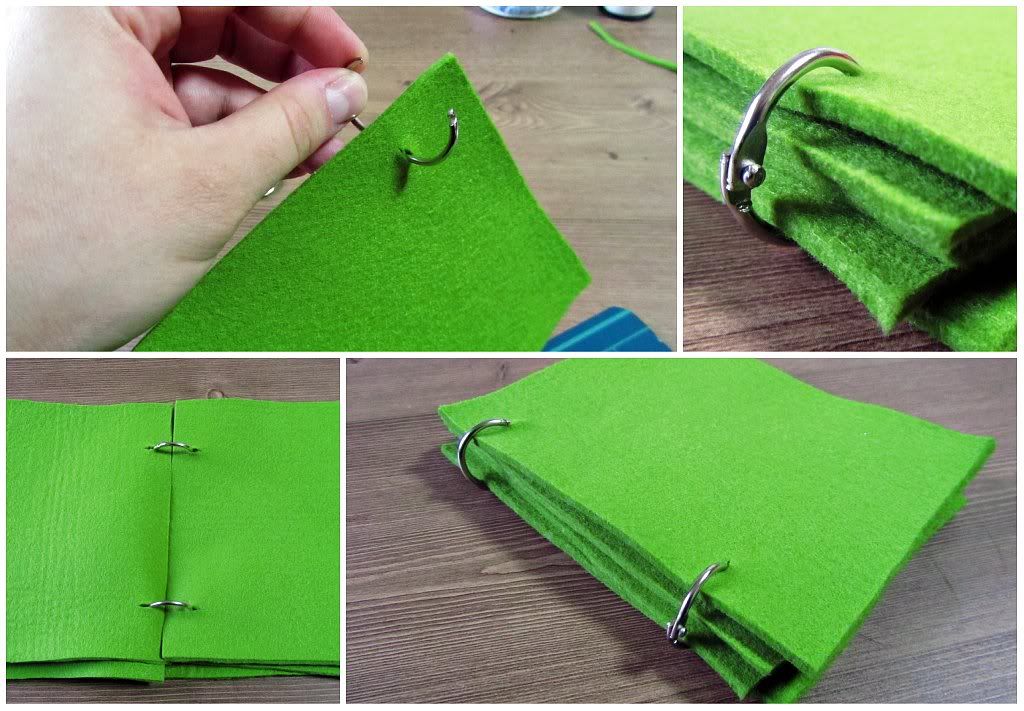 At this point, you could be finished.
But, I decided to attach some pretty lace
as an embellishment and also as a secure closure for the book.
Cut yourself some pretty lace, ribbon, or fabric in two 12" pieces.
Remove the front and back covers from your book
and attach one piece of lace to each
right in between the two binder ring holes.
(I used my sewing machine and a small zig zag stich
to attach the lace, but you could hand-sew or even hot-glue
Add your cover pieces back to your stack.
First add your back piece, but slide the lace under the rest of the stack.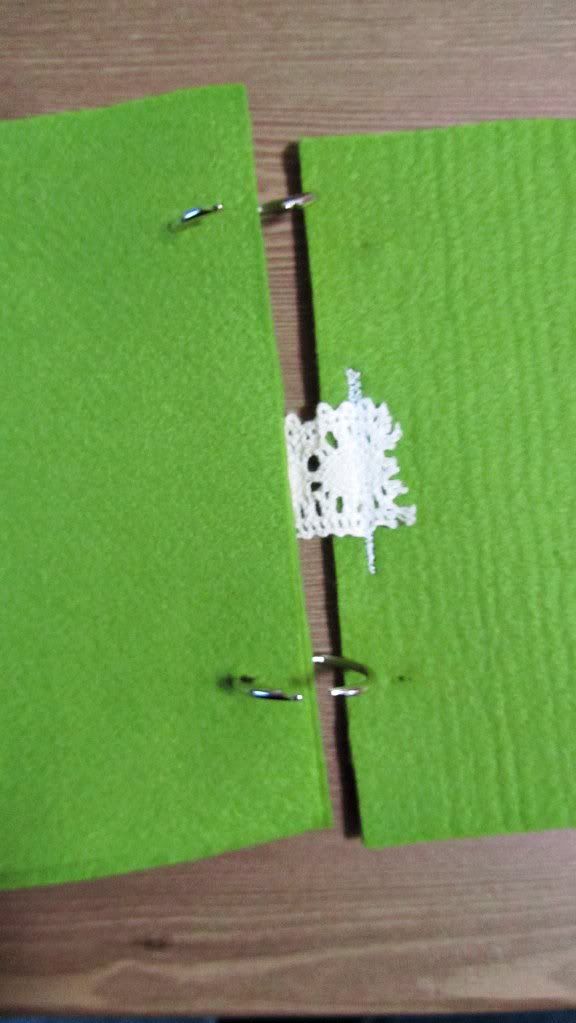 Add your front cover piece on top.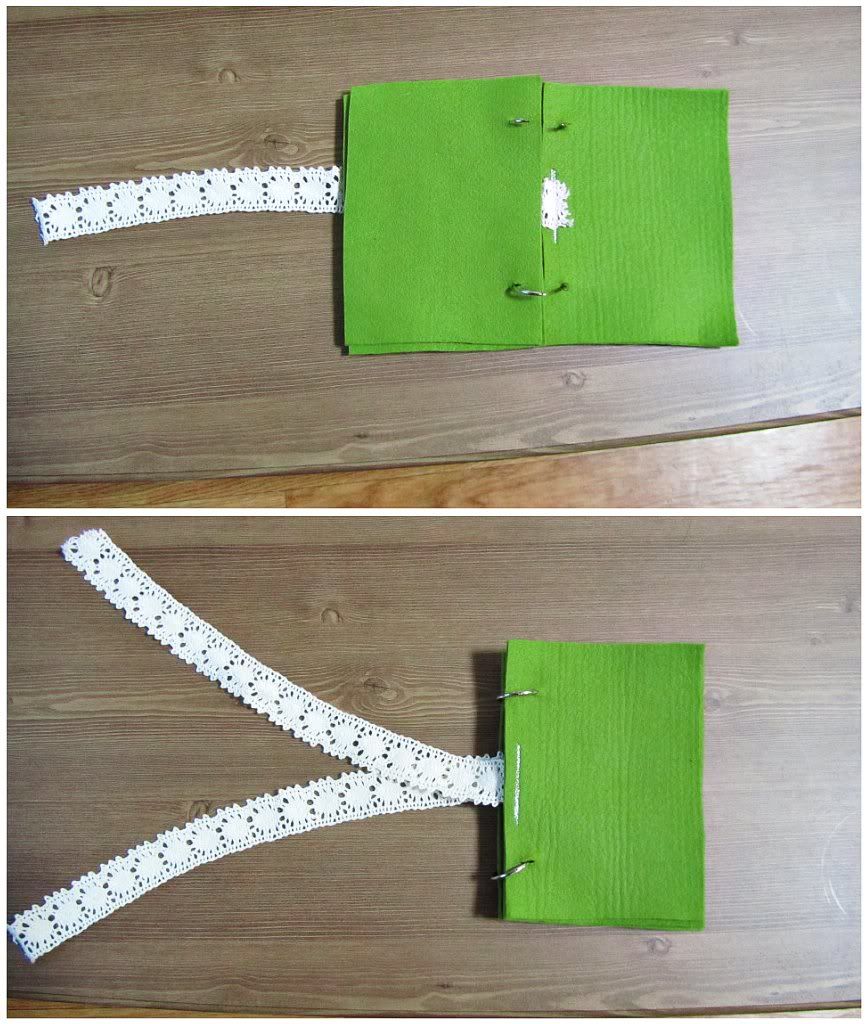 To close your earring book:
cross you two lace pieces in back and bring them around to the front.
You can either tie them at the front right then,
or wrap them around the book again and tie.
Use your heavy needle to puncture holes for your earrings
and have fun organizing them!
Your 5 sheets of felt give you 2 cover pieces (front & back)
and 3 interior pieces for earrings.
Linking up all over the place.