John & I are currently going through a season of purposeful waiting on the Lord. We are waiting for Him to give us direction about this next season of our life. For the first time ever I feel good about the waiting, too...
I know that the Lord has a plan for us.
I know that He is strong and in control.
I know that He has always been and will continue to be faithful
to us as we seek to serve Him.
As we've been in this waiting season, however, there have been trials and frustrations.
Culture shock has taken hold of us yet again (especially me) and thrown us for many a loop.
We've had ridiculous arguments, difficult times at work and our fair share of sickness and ailments in this season as well.
I know the enemy is trying to destroy whatever peace and confidence
I have in the Lord right now.
And there have been many times when I've asked the Lord,
My great and mighty, love-filled Father, who disciplines us in perfect grace in order to treat us as TRUE children (Hebrews 12:7-8), has given to me an important reminder.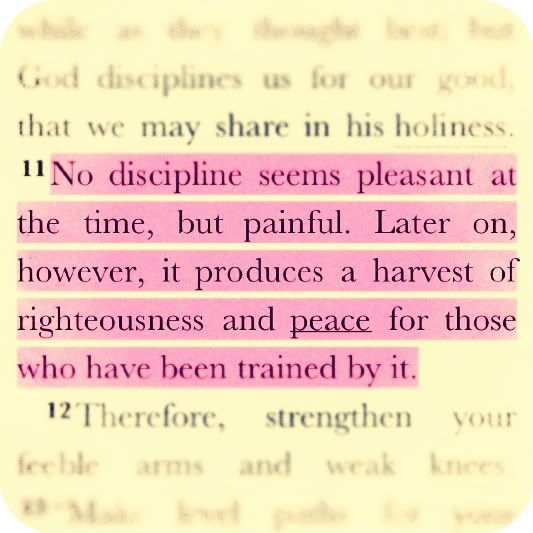 Lord Jesus, help me to submit faithfully to your discipline,
no matter what the circumstances are,
in order to reap a harvest of Your righteousness and peace!